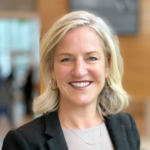 Annie Edwards
Chief Human Resources Officer
Annie joined Rawlings in 2019 as the Chief Human Resources Officer. Prior to joining Rawlings she held executive HR and legal roles in the DMGT (Daily Mail and General Telegraph) family of companies since 2008, including Director of Global HR at DMGT and Chief People Officer and General Counsel at Genscape. She thrives in leading and developing talent and guiding growth strategies for data, analytics and technology companies. Annie has over 20+ years of experience in commercial and civil law and human resources management and talent development. She has also served as an Assistant District Attorney and an Assistant Attorney General in Massachusetts.
Annie has a B.A. in English from Tulane University and a J.D. from the George Washington University Law School. Annie is a member of the bars of New York, Massachusetts and Kentucky and is involved in many professional and charitable endeavors. She and her three children live in Louisville, Kentucky.