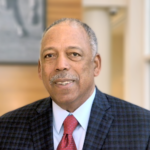 Wade Houston
 Wade became the first African American to sign a basketball scholarship at the University of Louisville in 1962. He graduated from the University of Louisville in 1966, earning a Bachelor's Degree and later a Master's Degree from the School of Education. While at the University of Louisville, Wade, his wife Alice, and Charlie Johnson formed Johnson-Houston Transportation Co., a local cartage company that delivered parts to Ford.
In 1989, the University of Tennessee hired Wade. He was the first African American head basketball coach in the Southeastern Conference. In 1995 Wade resigned his position at the University of Tennessee to devote his talents, resources, and energies to his expanding business interests.
Wade became partner in Active Transportation Co, Automotive Carrier Services, Dallas and Mavis Specialized Carriers, and ATC Leasing Co. With over 3,000 employees, the combined entities (JHT Holdings) became the second largest minority-owned company in the United States and the largest minority owned transportation company in North America. Wade is now leading JHT Holdings with Houston-Johnson, Inc. (presently HJI Supply Chain Solutions), a logistics provider and warehousing management entity that coordinates specific just-in-time deliveries and supply chain management.