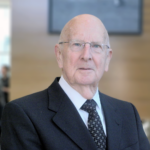 Robert L. Taylor "Dean Taylor"
 Bob is originally from Pittsburgh. His education includes an AB in American studies from Allegheny College, an MBA from the Ohio State University, and a Doctor of Business Administration in management and administrative studies from Indiana University. Bob served as an officer in the US Air Force from 1961 to 1981, retiring as a Lieutenant Colonel.
Following his retirement from the military, Bob served as associate dean of the College of Letters and Science at the University of Wisconsin-Stevens Point. In 1984, he was appointed dean of the College of Business at the University of Louisville. He retired as dean in December of 2002 to serve as Professor and Dean Emeritus until 2012. He published many papers in scholarly journals and he co-edited three books. In 2012, Bob joined the Oliver Group as Senior Consultant. He provided services in strategic planning, leadership development and executive coaching and retired in April 2017.
He served on several boards, including Stock Yards Bank & Trust Company (SYBT), Liberty National Bank (Bank One Kentucky NA), Logan Aluminum, Inc., Louisville Public Media, Metro United Way and Greater Louisville, Inc. He has served on the Rawlings Board since 1996. His focus on the board is leadership development.